Jets, Jewels, and Jealousy: The Crazy Rich Asians Trilogy | 2013, 2015, 2017
"The "living room," as Nick so modestly called it, was a gallery that ran along the entire northern end of the house, with art deco divans, wicker club chairs, and ottomans casually grouped into intimate seating areas. A row of tall plantation doors opened onto the wraparound veranda, inviting the view of verdant parklands and the scent of night-blooming jasmine into the room, while at the far end a young man in a tuxedo played on the Bosendorfer grand piano. As Nick led her into the space, Rachel found herself reflexively trying to ignore her surroundings, even though all she wanted to do was study every exquisite detail: the exotic potted palms in massive Qianlong dragon jardinieres that anchored the space, the scarlet-shaded opaline glass lamps that cast an amber glow over the laquered teak surfaces, the silver- and lapis lazuli-filigreed walls that shimmered with a patina of timeless elegance, as if it had been there for more than a hundred years, and Rachel didn't dare touch anything." - Crazy Rich Asians, p. 134
The Sum of It
Crazy Rich Asians, making history today as the first Asian-led, contemporary-set studio film in 25 years, is the first novel in a series by Kevin Kwan, which goes on to include China Rich Girlfriend and Rich People Problems. The opening installment is primarily set in Singapore, the ritzy island nation at the tip of the Malay Peninsula, where uber-wealthy Colin Khoo and model Araminta Lee are getting married. Though the crescendo to this wedding is the baseline of the book, the central narrative shifts focus from dapper but down-to-earth Singaporean heir Nicholas Young and his girlfriend, American-born Chinese (ABC) Rachel Chu; Nick's dazzling cousin Astrid and her working class-bred husband Michael; Nick's insufferably pompous and ostentatious cousin, Eddie; and Nick's disapproving mother, the always-meticulously groomed but never overdone Eleanor.
Nick has eschewed his family's high life in Singapore and is happily living in America, where he is a professor at NYU. When his childhood friend, Colin, asks him to be the best man in his wedding, Nick invites Rachel, a successful professor of economics herself, to join him in Singapore and to meet his family. However, Nick leaves Rachel in the dark about his family's extreme wealth, and from the moment she steps into the posh private suite on the Singapore Airlines flight, she is gobsmacked by her boyfriend's previously unspoken affluence. The novels document Rachel's experiences in Asia, encountering the rarefied world of Singaporean wealth. In a country where 10% of the population are millionaires, this elite class is so rich you don't even know their names; privacy is their most valuable commodity. Through Nick's experience we find that this financial abundance brings much more than designer clothes, private jets, exclusive access to the world's finest jewelers, and priceless family heirlooms. It also brings the trappings of oppressive expectations from family and "friends" who believe they can and should make the most important decisions in one's life, including romantic relationships. As Rachel navigates Singaporean power plays, the reader is exposed to some of the most glamourous and delectable elements of Singapore, the sparkling gem of Southeast Asia.
As the series expands, the locales increase -- to sunrise in the Australian outback; the inner sanctums of Parisian haute couture; the financial and technology powerhouse of Hong Kong; the terraced tea estates of Malaysia's Cameron Highlands; the capital of the Super Rich yet less-refined Mainland Chinese, Shanghai; flashbacks to World War II Indian buddhist temples; and Tyersall Park, the Young family compound in Singapore, a British colonial-era mansion nestled in the coveted quiet behind the National Botanic Gardens, which may as well be considered a supporting character for the role it plays in Rich People Problems.
China Rich Girlfriend picks up the storyline in Shanghai, where we discover long-lost family members, hundred million dollar street car races, a poisoning scheme, and dobermans with their own private psychic. Rich People Problems, which I believe is the strongest of the set, skillfully dances between present-day and the fascinating and expertly drawn history of World War II-era Singapore, which had fallen from British control into the occupation of the Japanese.
The Book & Cover Treatment
Emily and Audrey asked me to guest write this blog as I lived in Singapore from 2013-2016. The release of Crazy Rich Asians the book coincided almost exactly with my arrival to the island citystate. I had heard a lot of buzz, and many of my friends and neighbors encouraged me to read it, to get a taste of the culture and lay of the land. Aside from the oppressive heat, what struck me in my early days about Singapore was the extreme wealth clearly evident around the island. Yes, it ensured clean streets, meticulous public gardens, and one of the safest countries imaginable, but the Monied Singapore just felt too much for me. Everything looked suspiciously new. The fines the country is famous for are real. The title of the book itself was a turnoff to me at the time, and I continued to dismiss it for years, aiming to discover the island for myself.
I had some of the greatest experiences of my life during the time my husband and I lived in Singapore, and it opened my eyes and heart to cultures, food, and people I didn't even know existed. I sometimes jokingly refer to Singapore as "Asia 101," since it is primarily English-speaking and home of one of the best airports in the world, making it the best jumping off place for points East. But the truth is there is nothing basic about Singapore. Its flavors and history are as textured and complicated as the fabrics on Haji Lane or the laksa soup at Lau Pa Sat.
I thoroughly enjoyed this decadent series, though it falls firmly within the "beach read" category for me. However, Kwan's skill with luscious description and imagery is on par with great modern authors -- though with Singapore as his setting, his inspiration is limitless, from the food to the shopping to the architecture to the multicultural population.
The core cast of characters remains throughout the series, though new characters are introduced in each book. This ever-expanding troop is maybe too much for Kwan, as many of his characters are undeveloped. Though Rachel Chu is at the center of most of Kwan's plot points, it seems as if Kwan knows Rachel less and less as the series progresses -- a bizarre element, as she is likely the most relatable to the audience. Her character not only stays flat but seems to only exist for exposition purposes. Astrid Teo is one of those roles that every man wants to love and every woman wants to be, and she undergoes perhaps the most compelling arc of the series. Nick's grandmother, Shang Su Yi is the most intriguing character -- the multilingual, quiet manipulator, whose wartime experience was a secret to even her dearest grandson, Nick.
When I saw The Book & Cover highlighting Kwan's series, I knew it was finally time to read Kwan's books -- an opportunity to indulge my nostalgia and get my mind off the events of the day. These were satisfying reads, and my heart soared each time Kwan name-checked a dish or Singapore landmark to which my memories are anchored. The books also encouraged me to crack open my Southeast Asian cookbooks again. Continue reading below for some of my recent and mostly successfully-executed recipes. Some of the ingredients may be hard to find, but if your city has an Asian grocery, seek it out! Sometimes I go to Viet Hoa Market in Memphis just for the smells.
You may like the Crazy Rich Asians series if you like: Singaporean-based stories heavy with quip and romantic conflict like Ovidia Yu's mystery series, Aunty Lee's Delights, Aunty Lee's Deadly Specials, and Aunty Lee's Chilled Revenge.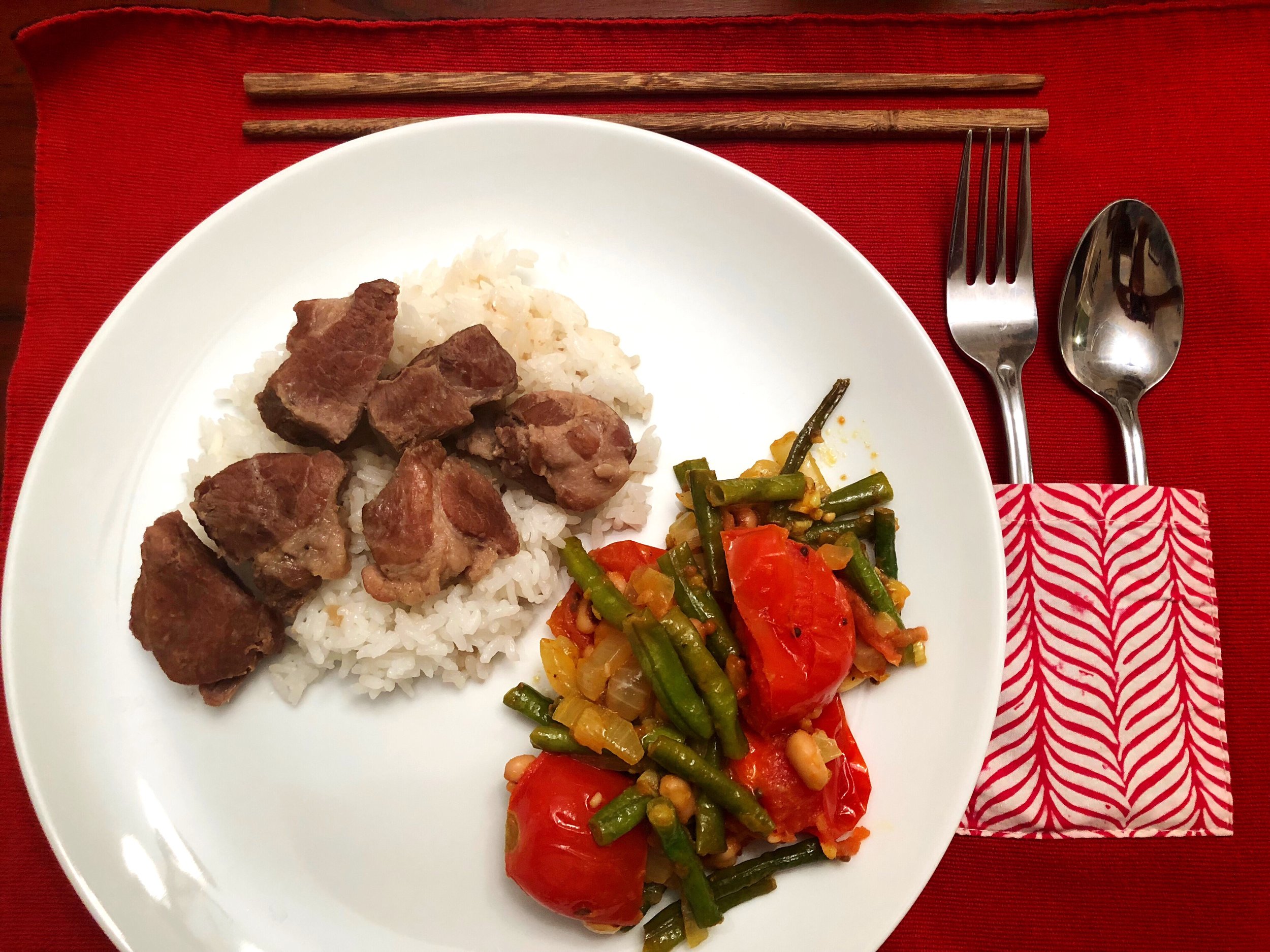 Soy and Spice Simmered Pork Shoulder
Makes 4 servings as part of a multi-dish meal
Ingredients:
1 ½ lb pork shoulder or butt, cut into 2-inch chunks (do not trim fat or skin)
3 Tbsp dark soy sauce
2 Tbsp granulated sugar
4 medium shallots, roughly chopped
2 cloves garlic, roughly chopped
¼ cup vegetable oil
3 stalks lemongrass, trimmed and smashed
4 slices galangal, ¼ inch thick
1 cinnamon stick (about 3 inches long)
2 pieces star anise
Marinate pork in soy sauce and sugar for at least an hour. In a blender or food processor, create a smooth paste with shallots, garlic, and oil.
Heat a 4 qt. Saucepan over medium-low heat; add shallot mixture. Cook 5 minutes, stirring occassionally until raw aroma has dissipated. Add marinated pork (with marinade), lemongrass, galangal, cinnamon, and star anise. Add just enough water to cover (about 2 ½ cups).
Bring to a boil, and then lower to simmer. Cook until pork is very tender, about 1 to 1 ½ hours. Adjust seasoning with soy sauce, sugar, and salt to taste.
Before storage, remove star anise and cinnamon so they do not overpower.
Red Curry with Kaffir Lime Leaves
Makes 4-6 services as part of a multi-dish meal
Ingredients:
1 14-oz can coconut milk
¼ cup red curry paste
1 cup water or light stock
1 Tbsp fish sauce (nahm pla)
1 Tbsp light brown palm sugar (you can use regular light brown sugar and the world does not end)
1 lb. boneless chicken thighs, cut into bite-size pieces
6 kaffir lime leaves, lightly bruised
¼ cup Asian basil leaves (I used regular basil leaves from my garden, and again, the world still spins)
Heat 1 cup of coconut milk in a wok or 4 qt. Saucepan over medium heat. Boil, stirring often until it thickens and oil begins to separate out of the milk, about 5 minutes. Add curry paste; cook, stirring constantly for 2 minutes to develop the flavors.
Add remaining coconut milk, water, fish sauce, palm sugar, chicken, and kaffir lime leaves and cook,stirring often until chicken is cooked through and tender, about 3-5 minutes. Stir in basil and cook for 5 seconds.
Taste and adjust seasoning with additional palm sugar, fish sauce, and/or salt.
**Both of these dishes are best served over rice. I learned three critical lessons about cooking rice while living in Singapore: 1) Invest in a rice cooker! Immensely simplifies your dinner experience, and you can set it ahead, let the cooked rice sit and not spoil, and steam vegetables and meat on the basket insert. 2) Always rinse your rice before cooking it. This is what makes it sticky. 3) Toss in one or two Pandan leaves on top of the rice before you begin cooking. It gives a unique yet delicately sweet scent to the rice. A pack costs about a dollar and can be stored in the freezer.
Recipes from a favorite cookbook by Robert Danhi called Southeast Asian Flavors: Adventures in Cooking the Foods of Thailand, Vietnam, Malaysia, and Singapore. El Segundo: Mortar & Press, 2008.